Facial Procedures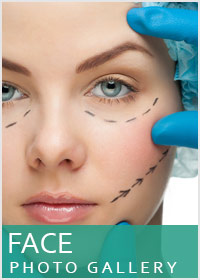 NEW AGE LIFT OR FACIAL PROCEDURE
As everyone knows, different people manifest aging of their face in many different ways. In some people the upper eyelids age more rapidly, in others the neck, in still others the midface, or any combination of these. Therefore Face and Neck Rejuvenation can involve any combination of procedures.
In our facial plastic surgery practice this combination of procedures is collectively known as the New Age Lift.
NEW AGE LIFT PROCEDURE CATEGORIES:
FACIAL PROCEDURE CATEGORIES IN DETAILS
For a detailed description of each of these procedures and a full album of sample photos please click on the link associated with the procedure of your interest.
FACE LIFT
Face lift, or Rhytidectomy, is a surgical procedure used to improve signs of facial aging. Skin appears younger and reduces the look of aging.
EYEBROW & FOREHEAD LIFT
Sagging of the eyebrows not only results in loss of this aesthetic appearance, but also results in secondary sagging of the upper eyelids.
EAR PINNING
Ear Pinning, medically known as Otoplasty, is a procedure commonly referred to as 'pinning back the ears. ear pinning procedure is often used to correct ears that are prominent and stand out.
EYE LIFT
Eye Lift surgery, commonly known as BLEPHAROPLASTY probably results in the most dramatic change in facial rejuvenation. Surgery consist of removing excess upper and lower eyelid skin.